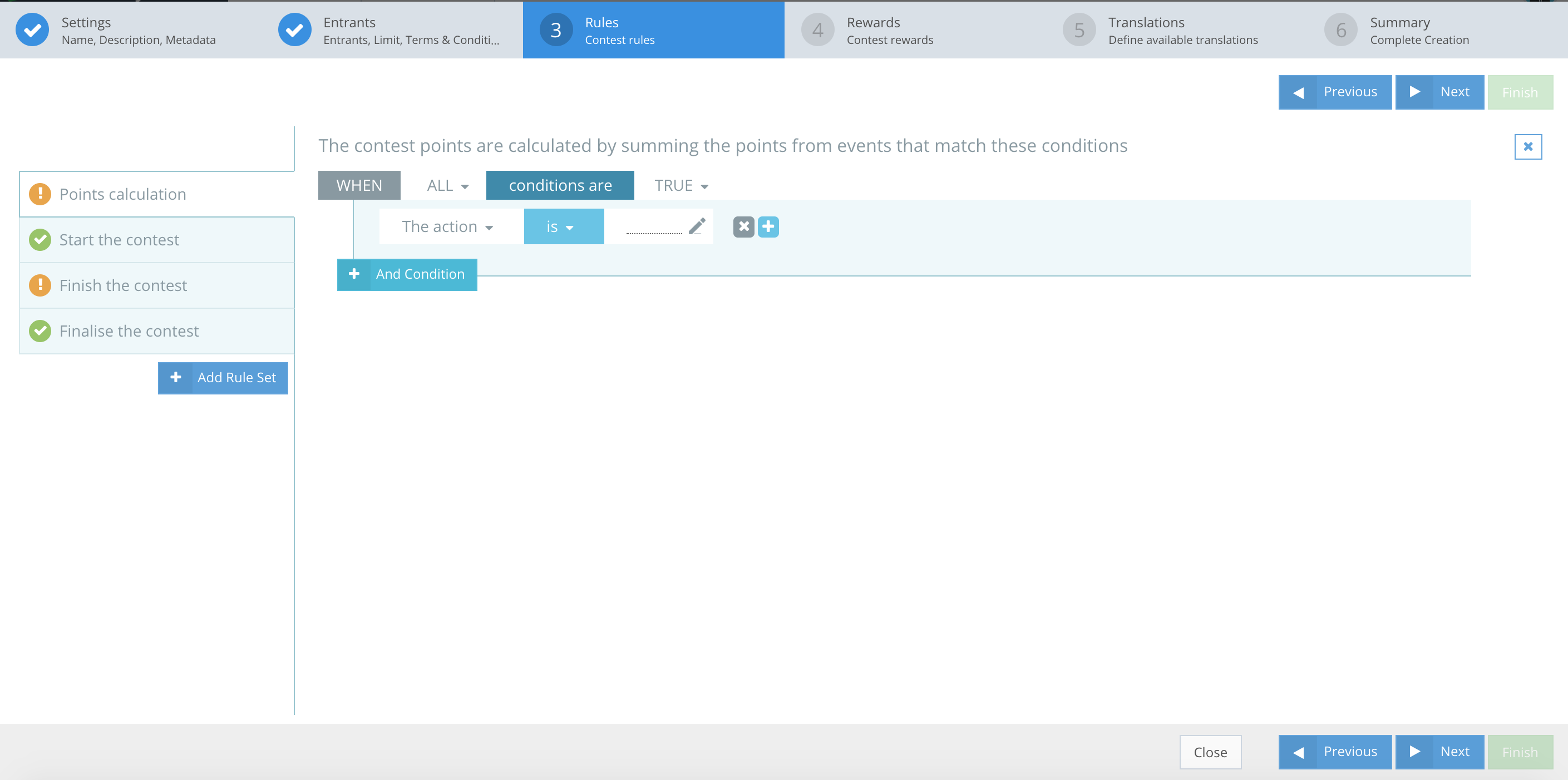 The Contest Rules is where you define the conditions for awarding points, as well as the Contest Start and End.
An example of the Rules system in CompetitionLabs is shown.
»

Points calculation
Model
Mandatory
Points calculation can be replaced with Custom points, as a Ruleset that lets you create more complex competitions. You can add, subtract or multiply points, or use your own adjustment factor.
»

Start the contests
Model
Mandatory
A contest start is pre-selected when its parent contests are finalised. All the prior contests need to be finalised before the new one starts.
»

Finish the contests
Model
Mandatory
A contest will finish when it has been active for exactly, or more than the time set for it, or at the Competition end time.
»

Finalise the contests
Model
Mandatory
The contest will finalise according to the configured setting "the contests finished is equal or more than X", which is typically set to complete within 1 minute.
APP Example:
| | |
| --- | --- |
| Points calculation | |
| Start the contests | |
| Finish the contests | |
| Finalise the contests | |
API Example:
{"jsonClass": "Contest",
 
     ...
 
     "ruleSets": [
     {
          "jsonClass": "RuleSet",
          "priority": 1,
          "scope": "contest",
          "action": "open.contest",
          "conditions": [
          {
               "jsonClass": "MainConditionSet",
               "matchCondition": "All",
               "mustEvaluateTo": true,
               "rules": [
               {
                    "jsonClass": "MainRule",
                    "fact": "contest.parents.status",
                    "operator": "==",
                    "constant": "$finalised.status"
                    }]
               }]
     },
{
     "jsonClass": "RuleSet",
     "priority": 2,
     "scope": "contest",
     "action": "finish.contest",
     "conditions": [
     {
          "jsonClass": "MainConditionSet",
          "matchCondition": "All",
          "mustEvaluateTo": true,
          "rules": [
          {
               "jsonClass": "MainRule",
               "fact": "contest.active.elapsed",
               "operator": ">=",
               "constant": "$competitions.scheduled.end"
               }]
          }]
     },
     {
     "jsonClass": "RuleSet",
     "priority": 3,
     "scope": "contest",
     "action": "finalise.contest",
     "conditions": [
     {
          "jsonClass": "MainConditionSet",
          "matchCondition": "All",
          "mustEvaluateTo": true,
          "rules": [
          {
               "jsonClass": "MainRule",
               "fact": "contest.finish.elapsed",
               "operator": ">=",
               "constant": "1"
               }]
          }]
     },{
     "jsonClass": "RuleSet",
     "priority": 4,
     "scope": "contest",
     "action": "contests.points.calculated.custom",
     "conditions": [
     {
          "jsonClass": "MainConditionSet",
          "matchCondition": "All",
          "mustEvaluateTo": true,
          "rules": [
          {
               "jsonClass": "MainRule",
               "fact": "event.count",
               "operator": ">=",
               "constant": "1",
               "subConditions": [
               {
                    "jsonClass": "SubConditionSet",
                    "matchCondition": "All",
                    "mustEvaluateTo": true,
                    "subRules": [
                     {
                         "jsonClass": "SubRule",
                         "fact": "event.action.type",
                         "operator": "==",
                         "constant": "bet"
                         }]
                    }]
               }]
          }],
     "onMatchThen": "add",
     "onMatchConstant": "1"
     },
     {
     "jsonClass": "RuleSet",
     "priority": 5,
     "scope": "contest",
     "action": "contests.points.calculated.custom",
     "conditions": [
     {
          "jsonClass": "MainConditionSet",
          "matchCondition": "All",
          "mustEvaluateTo": true,
          "rules": [
          {
               "jsonClass": "MainRule",
               "fact": "event.count",
               "operator": ">=",
               "constant": "1",
               "subConditions": [
               {
                    "jsonClass": "SubConditionSet",
                    "matchCondition": "All",
                    "mustEvaluateTo": true,
                    "subRules": [
                    {
                         "jsonClass": "SubRule",
                         "fact": "event.action.type",
                         "operator": "==",
                         "constant": "win"
                         }]
                    }]
               }]
          }
     ],
     "onMatchThen": "add",
     "onMatchConstant": "3"
     }
    ],
 
...
}