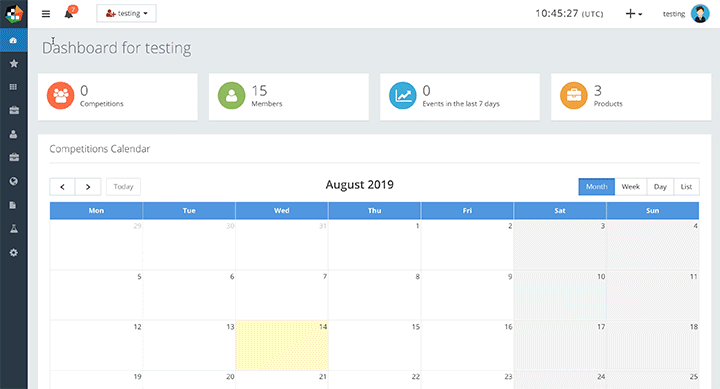 Notification/Message icon

From the top navigation bar you can always see the notification/message icon with a reminder of how many unread messages you have. The icon lets you easily navigate to the Messages where you can preview a list of read and unread messages and preview them like in the example below.
Messages – are automatically generated space related information (create, delete, update) that might impact your environment.

Account/Space navigation bar

It is a drop down icon bar that lets you easily navigate through Accounts or Spaces. An Account/Space is your created area where you can manage events differently depending on the space. Collaborators are given different access points to different spaces.
Space – a companies environment where events are being manages. A company can have multiple spaces for different regions, sub companies etc. Spaces can be categorized based on master or sub spaces for limited accessing or inheriting parameters from the master space to the sub spaces.

The time that is displayed in the laboratory dashboard is always in the UTC time format so that whenever you create an event you create it in UTC time and so that you do not mix up the time difference when you want your even start or end depending on a different location that is in a different time zone. The timestamp that we support in our system is the ISO8601 timestamp.
Quick link to Competition and Achievement creation

The icon button that is provided lets you quickly navigate to the Competition creation or Achievement creation because those are the most commonly used events in our app. The fields can be updated depending on the common usage of the clients needs.

The user icon lets you manage your basic user setting. You can navigate to:
Account – you can change your Companies display name, you can look at your Space name and update the Base Units of Measure that you use in that account. Units of measure are mostly used for companies that have different measure units if they have offices located in other countries. You also have an option of enabling the WYSIWYG  to make the competitions, contests, achievements descriptions to be more rich in content.
User – you as a user are able to manage and update your First name, Last name and email. You can also update other information that is provided but they are optional. Our platform also provides a 2 factor authentication for safer use.

Settings – it is a quick link to the settings menu bar that you can navigate through the main menu bar as well. You can read more about the Settings section in the link here.
Messages – this is a quick link to messages. You can get to messages through the Notification/Messages icon as well as shown above.