For a Product creation in the CompetitionLabs applications menu bar you press the icon button Add product and in the new pop up window you need to fill out all the information about the product. Some fields are mandatory some are optional for a Product creation. You can check which fields are mandatory in our API documentation of Product.
Mandatory
The label for a product/game that the "player" sees.
Optional
Categorisation informing and showing who is the provider of the game.
Product Type
Array[String]
Mandatory
The type of game as an example – slots game, role playing game and so on.
Optional
The description about the product for the "player" to see. Leaving the description box blank it is not exposed for the "player" to see.
Adjustment factor
Integer
Mandatory
A numerical value that allows you to adjust events points value for a specific product as a multiplier for the points display. When a product is not in our system and a new product is sent to us via an event it is automatically created in our system with an adjustment factor 1 that means EXAMPLE when a source value of an event is sent to us "Bet 10 euros = source value 10" because the adjustment factor is set to 1 that means that the source value 10 will be converted to a points value of 10.
Mandatory
It is a unique internal identifier for a product.
Actions Adjustment factor
Double
Optional
A specified numerical value for a specific action selection. The action adjustment factor overwrites the products adjustment factor.
Optional
It is used for storing information in the clients data base. Optional information for clients reference.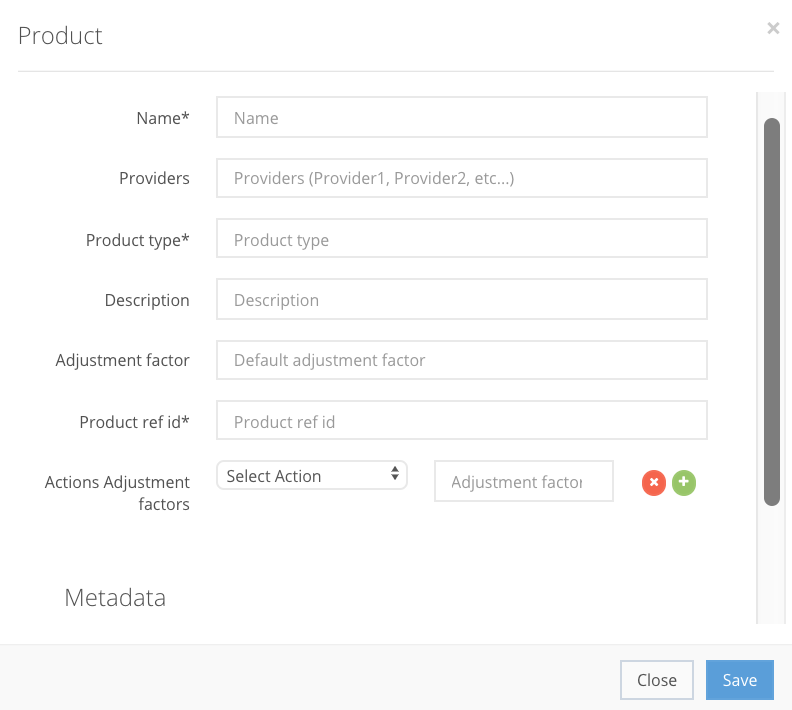 If you did all the steps correctly the Product should be created in the Products section as shown as in an example below. After creation you can use the action icon buttons provided to Preview the product, Edit it or Remove the product from the list.